BITZER ECOLITE CONDENSING UNITS
BITZER's multi-award-winning ECOLITE condensing units are now available for use with a full range of A2L refrigerants, including ultra-low GWP R1234ze/yf, and lower GWP R455A and R454C.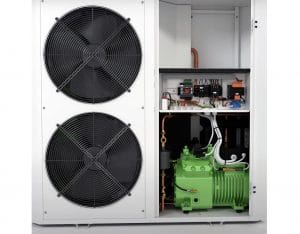 Kevin Glass, Managing Director of BITZER UK, says: "ECOLITE 2.0 offers end users a future-proof solution since all these refrigerants have a GWP below 150, the critical threshold under the F-Gas Regulation. In the case of HFO R1234ze/yf, the GWP is just 1."
The units are designed for use in a wide range of applications, including cold rooms, petrol stations, and convenience stores, and are available from 1.5 kW to 5 kW in low-temperature versions and from 3.5 kW to 16 kW in medium-temperature versions. The operating range spans -45°C up to 0°C, without requiring liquid injection.
Despite its competitive price point, ECOLITE  condensing units are based on highly efficient and reliable BITZER ECOLINE compressors with sophisticated capacity control, optimized heat exchangers, and variable speed fans.
ECOLITE Condensing Units
2.0 delivers improved energy efficiency through advanced technology and design features. Compressor capacity is managed by quick reacting CRII-VARISTEP control, developed by BITZER as a lower cost but highly effective alternative to expensive inverter-based systems.
It enables proportional modulation of compressor output in response to changes in load and system conditions. This gives step-less capacity modulation from 50% up to 100% as standard and 10% to 100% as an option.
Other features contributing to efficiency and performance are:
• Second set-point to control night operation;
• An ECO mode made possible by fine control of fan speed;
• A function that allows condensing temperatures to float, depending on current load and ambient;
• Narrower band of fluctuation for low pressure, allowing higher evaporation temperatures, delivering COP gains of around 2-3per cent per K  ;
• Reduced compressor starts results in a lower current draw;
• Better control of the temperature set point.
A sophisticated controller, included as standard, adds to the unit's flexibility and ease of use, offering winter start and oil return during operation. It also minimizes fan motor speed while in ECO or low-sound mode.
With a rated sound power level below 40 dB(A), the unit it suitable for use in residential areas and other sensitive locations, such as hospitals.
"Despite its competitive price point, ECOLITE 2.0 offers excellent energy efficiency, reliability, and future-proofing," said Kevin Glass. "Installers will also appreciate the plug-and-play design, which makes commissioning and diagnostics a breeze."