Refrigeration remote monitoring system;  introduce Dixell/XWEB, which is the only brand/model that comes to mind when it comes to remote monitoring and control in the refrigeration and air conditioning sector, due to its ease of use and affordability. We are all familiar with the product, but we think it is beneficial for all of us to remember its technical features from time to time.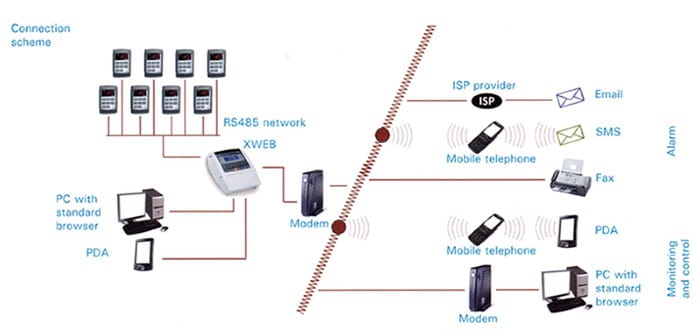 Refrigeration Remote Monitoring System for Food Quality
It is our duty as human beings to prevent waste. Unfortunately, a significant part of the crop produced in the field becomes unusable before it reaches our tables. The interruption of the cold chain is the biggest reason for this. Controlling the cold chain as much as possible will also prevent waste. In order to keep the food quality at high levels, XWEB guarantees the quality of fresh and frozen foods and complies with UNI EN 12830 rules thanks to continuous data logging, HACCP report, and timely alarm notifications.
Cooling Remote Monitoring System for Energy Saving
Energy has also become an important issue in recent years. Saving as much energy as possible is one of our common goals. For this purpose, XWEB keeps the functionality of the application at the most appropriate level by increasing energy efficiency and reducing costs, thanks to special algorithms and permanent energy consumption monitoring.
 Refrigeration Remote Monitoring System for Alarm Management
We would like to be informed of any alarm that may occur in our system as soon as possible so that we can detect the error and eliminate the error as soon as possible. XWEB notifies the relevant person in case of any alarm, either via SMS or e-mail.
Models of Refrigeration Remote Monitoring System
While the XWEB300 EVO series has models that can be connected to 6 and 18 cooling units, the XWEB500 EVO series has models that can be connected to 36, 50, and 100 devices. While it is more convenient to use XWEB300 in mini markets, gas stations, small cold rooms; supermarkets, cold room facilities XWEB500 will be more suitable.
Apart from these, we also have XWEB3000/5000 models that are connected to 494 devices and used in distribution centers and hypermarkets.